Looking for a personal injury lawyer in Texas? You may soon find yourself overwhelmed with a seemingly endless list of options. Making the wrong choice can end up costing you more in the long run, not to mention possibly reducing your chances of winning.
So, how do you choose? Drawing from our extensive experience in the sector, we've curated a list of the top 5 best personal injury lawyers in Texas. Furthermore, we've crafted a comprehensive guide to help you navigate through the process, and hopefully find the perfect lawyer for your needs.
TOP 5 Best Personal Injury Lawyers in Texas

We handpicked the entries to our list of top personal injury lawyers in Texas after closely examining their case histories, practice types, ratings, and reviews. Without further ado, here they are:
Steven C. Lee & Associates

Attorneys:
Steven C. Lee. With over 30 years of experience under his belt, Lee has handled hundreds of cases through settlement and trial and recovered millions of dollars for his clients. Steve is a member of the highly prestigious Multi-Million Dollar Advocates Forum and is recognized as one of the top 100 trial lawyers in the nation.
Practice Types:
Personal Injury
Car Accidents
Trucking Accidents
Bike Accidents
Wrongful Death
Ratings
Google Rating: 5/5 Stars
Yelp Rating: 4/5 Stars
BBB Rating: A+
Website: https://www.legallee.com
Phone Number: 515-236-1300
Steven C. Lee & Associates have dealt with thousands of personal injury cases over the last three decades. They have several 6 and 7-figure settlements listed in their achievements, including $7.5 million recovered for the victim of a trucking accident. They specialize in wrongful death, motor vehicle-related accidents, and construction accidents.
Positive Reviews:
Very helpful, made my whole process and experience simple and easy to understand. Steve and Tom helped make an intimidating and long process much more comfortable and comprehendible. Will recommend to anyone with personal injury case!
Christian
Luckily a personal friend recommended Steve Lee after my injury. He spoke highly of Steve and now I know why. Steve was so straight forward yet caring at the same time, and so was his staff. Amanda was warm and friendly but always so professional. She was amazing. It was a very stressful situation since I had never been involved in a lawsuit, but they helped make it as easy for me as possible during a painful time in my life. It was a great outcome to this terrible injury.
Patricia
Negative Reviews:
None found.
Conclusion:
If you're looking for a personal injury law firm that's credible and experienced, Austin, Texas-based Steven C. Lee & Associates have both in droves. This firm has over 30 years' worth of success stories, and they continue to win cases for their clients in Texas today.
Mullen & Mullen Law Firm

Attorneys:
Regis L. Mullen. As the founder of Mullen & Mullen, Regis has over 56 years of experience in the industry. His previous position as a litigation supervisor at Allstate Insurance Company means that he has a profound comprehension of the insurance industry.
Shane V. Mullen. As an experienced member of the State Bar of Texas, the American Bar Association, and The National Trial Lawyers Association, Shane represents clients before both state and federal courts. Among his many achievements, he won a $6,150,000 verdict for the victim of a construction site accident and $1 million for a commercial truck accident victim.
Joseph R. Morrison. With more than 18 years of experience under his belt, Senior Associate Attorney Morrison is a distinguished member of The National Trial Lawyers. He's also a member of both the Million and Multi-Million Dollar Advocates Forums.
Practice types:
Motor Vehicle Collisions
Commercial Truck Wrecks
Pedestrian Injuries
Premises Liability (Slip and Fall)
Work-related Injuries
Product Liability
Wrongful Death
Ratings
Google Rating: 4.8/5 Stars
Yelp Rating: 5/5 Stars
BBB Rating: A+
Website: https://www.mullenandmullen.com/
Phone Number: (214) 747-5240
With hundreds of reviews and positive ratings, and an impressive list of awards and accomplishments, Mullen & Mullen are serious about fighting for victims who have been injured by the negligence of a third party. Mullen & Mullen has offices in Dallas, Plano, Frisco, and Fort Worth, Texas.
Positive Reviews:
Working with the Mullen & Mullen Law Firm changed my life forever! Shane and Regis were very good at talking and communicating with us. Attorney Shane Mullen and his law firm gave us financial freedom that will last a lifetime.
Jerry
The Mullen & Mullen Law Firm exceeded my expectations. They worked expediently on my behalf with the utmost of integrity. I couldn't have worked with a better firm. Why did I hire the Mullen & Mullen Law Firm? It's because I trusted them.
Eddie
Negative Reviews:
None found.
Conclusion:
As dedicated personal injury lawyers, this family-run law firm fights for victims of motor vehicle collisions, workplace injury, product liability, and more. Mullen & Mullen have received recognition from TopVerdict, SuperLawyers, and Top Choice Award for their accomplishments.
Zehl & Associates Premier Injury & Accident Lawyers

Attorneys:
Ryan Zehl. Ryan Zehl has demonstrated repeatedly that he fights for the best outcome by recovering the largest verdicts and settlements in history for his clients. He has been featured on the cover of Texas Super Lawyers magazine, voted as one of the top 100 PI lawyers in Texas, and chosen as "Texas Super Lawyer" and "Rising Star" every year since 2009.
Eric J, Allen. With a diverse background including military service and television reporting, Allen is a State Bar of Texas Member who focuses his talents on personal injury & maritime injuries.
Lamar DeLong. DeLong has repeatedly been selected by Super Lawyers as Texas Rising Star every year since 2020. He focuses on representing victims of serious injury, those who have been tragically killed in the workplace, and oil field accidents. He also deals with truck and bus accidents, offshore accidents, and refinery and plant explosions.
Practice Types:
Motor Vehicle Accidents
Personal Injury
Maritime & Offshore Injuries
Product Liability
Insurance Disputes
Ratings
Google Rating: 5/5 Stars
Yelp Rating: 3.5/5 Stars
BBB Rating: A+
Website: https://www.zehllaw.com/
Phone Number: 1-888-603-3636
This Texas-based personal injury law firm has achieved numerous record-breaking accomplishments, including the largest oilfield accident settlement in US history, the largest truck accident settlement in Texas, and the number one largest accident verdict in Texas, to name just a few. With offices in Houston and Midland, they serve clients from all over Texas.
Positive Reviews:
Eric Allen from Zehl & Associates is the real deal! He handled my refinery accident case with expertise and compassion. He fought tirelessly to hold the responsible parties accountable and secured a favorable settlement for me. If you need a personal injury attorney, Eric is the one to trust.
Esther
I couldn't have picked a better team than Zehl and Associates. The level of professionalism and care they have is outstanding. I was in a life changing car accident, and since day one, they were there for me and my family every step of the way. I am forever grateful for Mike and all of his team.
Daniel
I am grateful to have had Ryan Zehl as my personal injury lawyer. His expertise in truck accidents helped me receive the compensation I deserved. He fought tirelessly for my rights.
Erin
Negative Reviews:
No credible negative reviews were found.
Conclusion:
Zehl & Associates were established 18 years ago and have since made a big name for themselves by recovering billions in damages and obtaining 6 and 7-figure settlements and verdicts for their clients. If you're looking for an "undefeated" personal injury lawyer, Zehl & Associates is a good bet.
Kostura & Putman, P.C.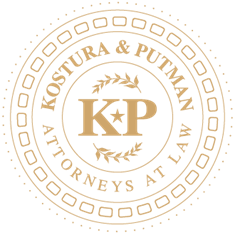 Attorneys:
Judy Kostura. Kostura has over 40 years of experience as a lawyer. She's been dealing exclusively with personal injury cases since 1985. Guided by a strong sense of justice and her passion to protect children, she also serves as Guardian ad Litem. Kostura has earned several awards including an Award for Excellence by Gene Cavin, Trial Lawyer of the Year by the Capital Area Trial Lawyer Association, and Champion of Justice by Texas Watch. She's also a member of the Million Dollar Advocates Forum.
Stan M. Putman, Jr. As well as serving as President and Managing Director at Kostura & Putman, Putman is recognized as a Top 100 National Trial Attorney. He is also a Life Fellow of the Texas Bar Foundation, a Life Fellow of the Austin Bar Association, and a member of the Million Dollar Advocates Forum.
Practice Types:
Trucking Litigation
Personal Injury
Business Law
Estate Planning
Ratings
Google Rating: 4.9/5 Stars
Yelp Rating: N/A
BBB Rating: N/A
Website: https://kosturaputmanlaw.com/
Phone Number: 512-328-9099
Based in Austin, Texas, Kostura and Putman is a small but highly experienced law firm that specializes in Personal Injury cases. As well as receiving high recognition for their legal prowess, both lawyers are also known for their compassion and integrity, as shown through their dedication to volunteer work and mentorship.
Positive Reviews:
Stan Putman was awesome at his work and made sure to keep myself as well as my son protected and was sure to make the best decision possible for us. I will definitely recommend him to anyone and use him again if ever needed!!
Candice
Honesty, and the importance to details.
Not one time did I feel like just another client.
Every decision was made with MY best interest in mind, and all options were thoroughly discussed.
I could not ask any more than that.
Thank you for all that you did.
Robert
Negative Reviews:
I call at 8:45am 01/16/2019 and… someone picks up and hangs up…?
Not impressed.
Maria
Conclusion:
As a smaller firm, Kostura & Putman are likely to be able to give their client more of a personal touch than a larger one. As well as several decades of experience, specifically in Personal Injury, this is a company whose founders are known for being caring and empathetic.
National Trial Law

Attorneys:
William O Whitehurst: Senior Counsel. Whitehurst has previously served as president of the State Bar of Texas, and the Texas Trial Lawyers Association. He has also served on the faculty of both the University of Texas School of Law and Harvard Law School Trial Advocacy Programs. Today, he specializes in catastrophic injuries and death from medical malpractice and has recovered millions of dollars for his clients.
Thomas R Harkness: Senior Counsel. Over an impressive 50-year career, Harkness has worked in product liability, catastrophic injury, and medical malpractice. He also serves as President of the Foundation of the American Board of Trial Advocates. Harkness has been listed as Super Lawyer by Thomson Reuters every year since 2003.
Practice Types:
Federal Tort Claims Act
Military Medical Malpractice
Camp Lejeune Lawsuits
VA Medical Malpractice
Birth Injury
Medical Malpractice
Mass Shooting Lawsuits
Personal Injury
Ratings
Google Rating: 5/5 Stars
Yelp Rating: 5/5
BBB Rating: N/A
Website: https://www.nationaltriallaw.com/
Phone Number: 833-913-1885
National Trial Law was established in Austin, Texas in 1971, though they now serve clients from all over the U.S. They have recovered some of the largest verdicts and settlements in the nation for Personal Injury – including a record-setting verdict under the Federal Tort Claims Act totaling $20 million.
Positive Reviews:
Everyone that I came across with at this firm was the best, Michelle was my lawyer, and she was amazing! She was always on top of everything, and always kept me in the loop of how the case was moving along. She is very compassionate and caring. Every phone call we had, she would always ask how I was doing and how was everything going with me before we got into any case talk. I am glad that I came across this law firm and Michelle. She is the absolute best!
Nora
We are truly grateful for Jamal and his team and the dedication that they all put towards our son' case. After a long and lengthy process we feel secure in that we will be able to provide everything our son needs and deserves through the trusts that they set up for him. Jamal and his team were always easy to communicate with and we would highly recommend this law firm for any medical malpractice case.
Blake and Jenna
Negative Reviews:
None Found.
Conclusion:
This Personal Injury law firm boasts some of the most celebrated PI lawyers in the country. In 2022, four of the attorneys in this firm—Harkness, Cheng, Alsaffar, and Higginbotham—were all named Top Attorneys of 2022 by the Austin Monthly magazine. They've also been selected as Super Lawyers in 2022, Rising Stars of 2022, and more.
A Guide to Hiring a Personal Injury Attorney
When you're looking for a Personal Injury (PI) lawyer, it's a good idea to start by making a list of the top-rated attorneys available in your area. The challenge, however, lies in determining which one is the best fit for your case.
We've made this guide to help you familiarise yourself with the intricacies of personal injury litigation, and so that you know which factors to consider before deciding.
Defining Personal Injury Litigation
In Texas, Personal Injury refers to harm or injury to a person's body, mind, or emotional well-being due to the negligence, carelessness, or deliberate actions of a third party. For a claim to be successful, you must be able to demonstrate how the third-party individual or entity acted, or neglected to act, in a way that led to you becoming injured, sick, or mentally harmed.
Personal Injury encompasses a wide range of claims. They include but are not limited to:
Motor Vehicle Accidents
Car crashes
Motorbike accidents
Ride-share accidents
Commercial trucking accidents
Pedestrian accidents
Slip and Falls and Premises Liability
Caused by leaked water from a cooler or refrigerator
Caused by debris or slippery substances left on the floor
Failure to display notices and warnings of slippery surfaces
Faulty construction
Failure to warn of potential hazards
Medical Malpractice
Wrong diagnosis
Failure to diagnose
Failure to warn of potential hazards or side effects
Wrongful death
Surgical errors
Wrong prescription
Workplace Injuries
Slips and falls in the workplace
Kitchen burns and scalds
Construction work injury
Injury from exposure to toxic chemicals
Radiation sickness
Electrocution
Inadequate personal protective equipment
Faulty equipment
Product Defects
Missing warning labels (for example, for a sharp object)
Design defects that lead to injury (for example missing guard)
Manufacturing defect
A lack of safety designs, including automatic shutoffs
Medical devices and implants that cause injury due to design defects
Other Examples of Personal Injury Cases
Mental anguish and psychological harm (for example due to defamation)
Boating accidents
Mass tort cases
Wrongful death
And more.
The most common type of Personal Injury cases throughout the U.S. relate to automotive accidents and injuries. According to an analysis from 2017, auto tort made up 79% of all tort cases in Texas, followed by 18% for all other torts, including slip and fall, slander, and intentional acts. Malpractice and product liability made up the last 3%.
The 2021 Annual Statistical Report for The Texas Judiciary revealed that more than 75% of injury or damage civil cases involved a motor vehicle.
Personal Injury Litigation Essentials in Texas
For a Personal Injury case to be successful in Texas, two factors will be considered: liability, and damages. With your lawyer's help, you will need to show the extent of the injuries or sickness you suffered and demonstrate that the defendant is accountable for your losses.
If wrongful conduct, i.e., negligence or carelessness, is proven, you may be due compensation. 
Comparative Negligence and Contributory Negligence in Texas
In Texas, comparative negligence is where the person making a claim is found to be partially responsible (to blame) for an accident. For example, if you were to claim damages for a motor vehicle accident that wasn't your fault, but after investigating, the adjuster charges you with partial blame (e.g., your speed, or a traffic violation), it can be used to reduce your recovery.
Contributory negligence is where the plaintiff is found to be at least 50% (or more) responsible for the accident. At this point, contributory negligence is used as a full defense, and the plaintiff will not receive compensation.
What Is a Personal Injury Lawyer?
A Personal Injury lawyer is a person who legally represents those who have been injured in an accident or incident. They protect the rights of victims of injury—whether physical, mental, or psychological—and fight for them to receive the correct amount of compensation.
One of the jobs of a PI lawyer is to help gather evidence that proves that a third-party individual or entity was responsible for your injury due to negligence, recklessness, or malicious actions.
Negligence: Where the defendant acted carelessly or inattentively or failed to act with the proper degree of awareness, and thereby created dangers that resulted in injury.
Recklessness: Recklessness differs in that the defendant acts in a certain way that creates risk, despite knowing that they are doing so. For example, a person who becomes [intoxicated before driving](https://zealousadvocate.com/resources/texas/dwi-arrest-texas/) a car and causing an accident would be considered reckless.
Maliciousness: This is reserved for cases where a third-party individual or entity deliberately causes harm to an individual. For example, the victim of an assault can file a Personal Injury claim against the person who maliciously assaulted them.
Find the Best Personal Injury Lawyer in Texas
Choosing a Personal Injury lawyer can be hard, especially with so many "ambulance chasers" seemingly lurking in the shadows, waiting to pounce on an opportunity to make a quick buck.
The good news is, there are plenty of excellent PI lawyers, who also happen to be good people that are truly sympathetic to their clients. These lawyers take time to listen to your case and give you good, honest advice.
Below, we outline a few tips to help you separate the wheat from the chaff.
Seek an Experienced, Specialized Lawyer
When shortlisting potential lawyers you can get in touch with, be sure to select the ones that specialize in Personal Injury. These people will be experienced in cases like yours, and they'll be able to create a strategy that is more likely to win.
Experience is paramount, so check out the lawyer's background, and don't be afraid to ask questions. Ideally, it would be best to find a lawyer with a background in handling cases that are very similar to yours. For example, if you have been in a commercial trucking accident, search for a PI lawyer that has a background in handling the same type of case.
Best Personal Injury Lawyer Has the Best Success Rate
A lawyer's success rate can give a good indication of the likelihood of success for your case if you go with them, so don't be afraid to ask if they don't make the information freely available.
If they cannot—or refuse—to produce a success rate, or they're not willing to talk earnestly about the cases they've won and the cases they've lost, this is a sign of dishonesty.
Bear in mind that sometimes a lawyer can't get into specifics because of client confidentiality, but they should still be able to give you overarching information that'll help you decide if they're the right fit for you.
The Best Is the One You Can Get Along With
Personal Injury claims can drag on for months, or even years. You're likely to spend many hours communicating with your lawyer, so you should aim to pick one that you enjoy interacting with!
If you don't feel comfortable talking to a lawyer, they're probably not the right pick. After all, good, fluid communication between you and your lawyer is likely to be a huge component of success.
Work on a Contingent Fee Basis
Lawyers who work on a contingent fee basis do not charge you any money unless they win the case. The legal fees are contingent on them winning the case. In other words, they work on a "no win no fee" basis and instead charge a set percentage—usually between 30% and 40%—of your total recovery.
Good lawyers will also consider additional costs such as legal fees when quoting their contingency fee to make sure you get a good outcome, too.
It's essential that you find a lawyer who works on a contingent fee basis. This way, you won't need to worry about legal bills on top of any medical and injury-related bills you are already dealing with. Additionally, this fee structure will mean that your lawyer will be directly invested in the outcome of your case. If you don't win, they don't win, either.
Highly Organized
Good lawyers are highly organized. Although it's difficult to judge whether someone is well organized from meeting them once, there are a few telltale signs! Organized lawyers are never late for meetings, and they meet their deadlines. They'll keep their files well organized, and all of your notes ready, and when they promise to call back—they do.
Interview Multiple Texas Lawyers to Choose the Best
Don't immediately pick the first lawyer you speak to. Instead, shop around. Interview multiple lawyers on your shortlist, and make notes on each one straight after meeting them.
Ask yourself—you can use a scale of 1 to 5—how comfortable you were talking to them. Did they make you feel awkward, or relaxed? Make notes on whether they were on time or not, and don't forget to take note of the attitude of other staff in their office toward you, too. You may end up dealing with others as well, including receptionists—so it's important you get along with them.
Be sure to ask each lawyer about their background and experience in cases similar to yours, and take notes so you can compare later.
Ask for Referrals
Ask people you know, such as friends, family, colleagues, and neighbors, if they have previously worked with a Personal Injury lawyer that they could recommend. These people are likely to only refer you to lawyers that they've had a positive experience with.
Although referrals will help you curate your shortlist, it's still important to interview the lawyers before deciding for yourself. Just because your family member, friend, or neighbor got along with a lawyer, doesn't mean you will too.
Finally, don't rush the process. Take your time to research, take notes, and ask plenty of questions. After all, choosing the right lawyer is essential to a successful case.
Ben has vast experience in defending criminal cases ranging from DWIs to assault, drug possession, and many more. He has countless criminal charges dismissed and pled down. Among many other awards, one of the Top 10 Criminal Defense Attorneys in Texas and winner of Top 40 under 40.