All Texans should be familiar with local laws regarding the purchase and consumption of alcoholic beverages. This knowledge allows individuals to avoid putting both themselves and others at risk. The guide below will help you better understand Texas drinking laws so you can make safe, informed decisions, and avoid the many consequences of alcohol-related crimes.
Drinking Age in Texas
In the state of Texas, individuals must be 21 years of age or older to legally purchase and consume alcoholic beverages. One exception to this rule is when a parent or legal guardian purchases an alcoholic beverage for their child to consume in their presence. However, restaurants and other establishments will still use their discretion, given the liability and penalties involved with regard to underage drinking and public intoxication.
Texas Alcohol Sales Laws
Individuals at least 18 years of age and certified by the Texas Alcoholic Beverage Commission, may legally pour and serve alcoholic beverages for a patron. Texas has a varied alcohol service schedule. The following days and times apply to alcohol sales statewide:
Monday – Friday: 7 a.m. until midnight
Saturday: 7 a.m. until 1 a.m.
Sunday: Noon until midnight (10 a.m. until noon only with the service of food)
In Texas, certain alcohol sales laws vary by county. Believe it or not, there are still a handful of completely dry counties where it remains illegal to sell or purchase alcohol. Most counties are either "partially wet," allowing for the sale of beer and wine but not liquor, or completely "wet," permitting the sale of beer, wine, and spirits. For a closer look at how this variance breaks down by county, access this Local Option Alcohol map on the Texas Almanac website.
Where Can I Buy Alcohol in Texas?
You can purchase wine or beer (beverages not exceeding 17% ABV) from grocery stores, convenience stores and other licensed retailers between the hours of 7 a.m. and midnight, Monday through Friday, on Saturday between 7 a.m. and 1 a.m. the next morning, and from 10 a.m. until midnight on Sunday.
For liquor and for wines and beers exceeding 17% ABV, liquor stores are open between the hours of 10 a.m. and 7 p.m., Monday through Saturday. The state keeps these stores closed for business on Sunday.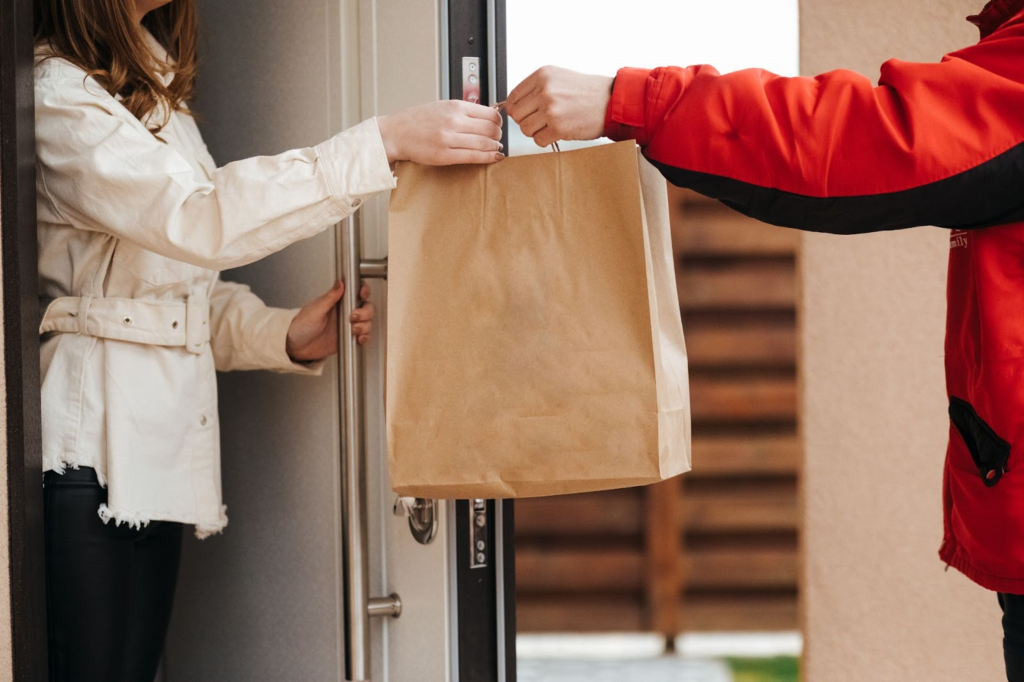 Texas Alcohol Delivery Laws
On April 28th, 2021, the Texas State Legislature approved House Bill 1024. Shortly after, on May 12th of the same year, Governor Abbott signed it into law. This new law authorizes mixed beverage and private club permittees to:
allow customers to pick up alcohol (mixed drinks, wine and malt beverages) with their food orders.
deliver alcohol with food orders to customers.
utilize third parties, which include agents of the retailer or contractors holding a Consumer Delivery Permit (CD), to make deliveries on behalf of the business. 
Several specific requirements apply, including:
Vendors must sell distilled spirits in the original single-serving container, not exceeding 375ml in volume.
Alcoholic drinks like wine or malt beverages must be properly labeled and sealed in either their original packaging or in tamper-proof containers.
The retailer must package their mixed drinks which contain distilled spirits in a tamper-proof container, sealed by the retailer and labeled with the words "alcoholic beverage," and the name of the retailer's business.
Delivery personnel cannot store alcoholic beverages designated for delivery in the passenger area of the vehicle.
The Texas Alcoholic Beverage Commission (TABC) also offers the Texas Responsible Alcohol Delivery Training course, designed for drivers who plan to deliver alcoholic beverages to customers.
Drunk Driving Laws in Texas
As a driver, whenever your blood alcohol concentration (BAC) reaches 0.08% or above, the state of Texas considers you legally intoxicated. However, no matter what your blood alcohol concentration is, you are breaking the law as soon as any amount of drugs or alcohol begins to affect your driving, boating or flying.
Depending on the severity of your offense, your personal criminal history, and the details of the crime, Texas has several levels of penalties for individuals found guilty of Driving Under the Influence (DUI)/ Driving While Intoxicated (DWI), including:
First Offense (Class B Misdemeanor)
A fine of up to $2,000
From 3 to 180 days in jail upon conviction
Loss of driver's license from 90 days to one year
Second Offense (Class A Misdemeanor)
A fine up to but not exceeding $4,000
A term of up to one year in jail upon conviction
Loss of driver's license 180 days to 2 years
Third Offense (Third-degree Felony)
A $10,000 fine
Two to 10 years in prison
Loss of driver's license for up to 2 years
In addition to the above, you may face other penalties and conditions, including the installation of an Ignition Interlock Device which requires you to take a breath test before your automobile will start, substance abuse education and counseling, community service and other conditions.
Texas is an implied consent state. This means that every person who gets behind the wheel "gives" consent to local law enforcement to administer standard drug or alcohol testing upon request. If you refuse or fail the test, you may face an Administrative License Revocation (ALR), which is a type of offense unrelated to your DWI conviction.
Upon refusal, the officer will likely remove your driver's license, and either they or someone at the courthouse/police station will give you a temporary license (Notice of Suspension/ Temporary Driving Permit). You must request an ALR hearing from the Department of Public Safety (DPS) within 15 days, otherwise your formal license suspension will begin 40 days after your arrest.
If you are unsure of the current status of your license and driving privileges, you can check your eligibility on the Texas Department of Public Safety website. If you are not eligible to drive, you should talk to your lawyer about requesting an Occupational License, which is a temporary permit allowing you to commute to and from work, run errands, attend appointments, visit family members and take care of any additional necessary responsibilities.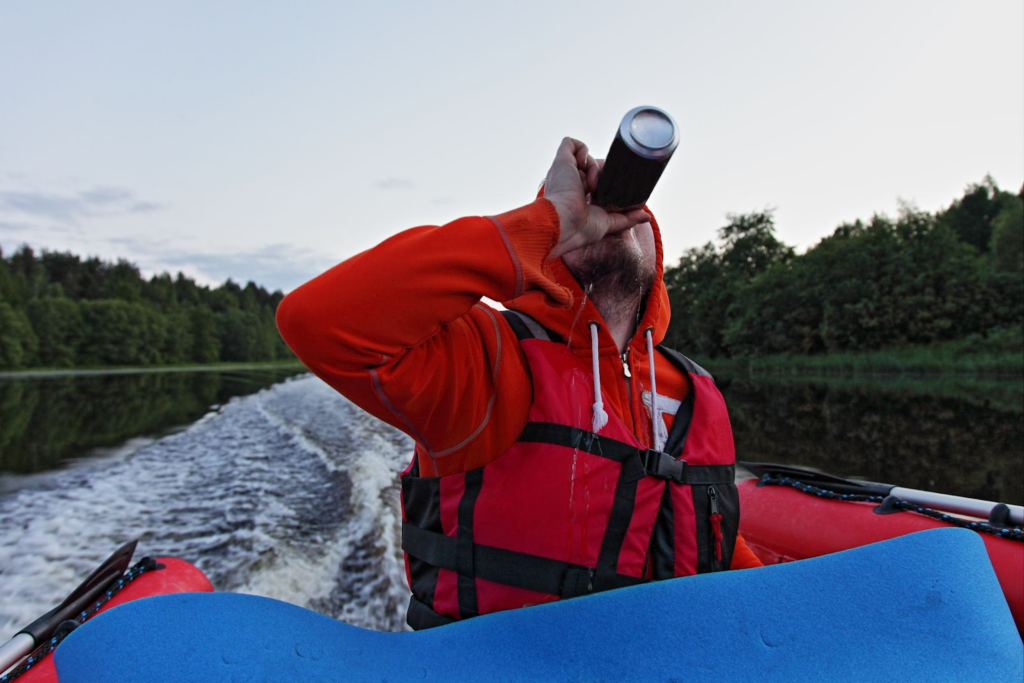 Laws for Operating a Vessel While Intoxicated in Texas
In the same manner that drinking and driving is illegal, BWI, or Boating While Intoxicated, also known as BUI (Boating Under the Influence) is also a crime. This applies to anyone impaired by drugs or alcohol to the extent that it affects their "normal use of mental or physical faculties," or an individual with a blood, breath, or urine alcohol concentration of .08% or greater.
Texas drinking laws apply not only to the use of motorized vehicles but to non-motorized modes of water transport as well, including water skis, paddle boats, aquaplanes, sailboats, rowboats, canoes, kayaks, or any other device not strictly propelled by the natural current of water.
While judges have a certain level of discretion over the application of specific penalties based on the circumstances of the offense, standard penalties for BWI are exactly the same as the penalties for DWI listed above. It is important to note that while it may seem different from DWI, the courts can use your boating while intoxicated charge against you in the future if you commit a subsequent drunk driving offense.
For either DWI or BWI first-offenders, penalties rise sharply for individuals guilty of causing serious bodily harm to another (intoxication assault) or death (intoxication manslaughter). Penalties include:
Intoxication Assault: two to ten years in prison and up to $10,000 in fines
Intoxication Manslaughter: two to 20 years in prison and up to $10,000 in fines
Resources on Texas Alcohol Laws
If you are interested in further research into Texas alcohol laws, please explore our list of helpful links below. Each resource provides important information on a range of alcohol-related topics, including Texas drinking laws, purchasing requirements, underage drinking, and even proper training for those looking to work in the beverage or service industries, respectively. Know your laws, drink responsibly, and always consult a lawyer when facing legal trouble.
Texas Alcoholic Beverage Commission (TABC)
Texas Alcohol Laws and Regulations
https://www.tabc.texas.gov/texas-alcohol-laws-regulations/
The Texas Alcoholic Beverage Commission provides citizens with detailed information on local drinking laws and regulations, along with vital information for those working in the industry.
National Institutes of Health
National Institutes on Alcohol Abuse and Alcoholism
Alcohol Policy Information System
Texas: Underage Drinking
https://alcoholpolicy.niaaa.nih.gov/underage-drinking/state-profiles/texas/95
This is an excellent resource for individuals hoping to learn more about national and state health patterns, including a detailed look at underage drinking.
Texas Department of Transportation
Impaired Driving and Penalties DUI/DWI
https://www.txdot.gov/safety/driving-laws/impaired-driving.html
The Texas DOT offers clear and concise information on current Texas drinking laws and penalties for DUI/DWI offenses, along with additional information and resources for local drivers.
Responsibility.org
National Drunk Driving Statistics Map
https://www.responsibility.org/alcohol-statistics/state-map/state/texas/
This interactive map allows you to select a state and explore various drunk driving statistics for that region.
360 Training
https://www.360training.com/blog/texas-alcohol-laws-sunday
An authorized provider of official alcohol service training and state licensing courses, this educator is a great resource for those looking to work in positions involving alcohol sales or service.
Texas Penal Code
Title 10: Offenses Against Public Health, Safety, and Morals
Chapter 49: Intoxication and Alcoholic Beverage Offenses
https://statutes.capitol.texas.gov/Docs/PE/htm/PE.49.htm
Sometimes, it's good to go right to the source. The Texas Penal Code is the most straightforward resource you can access for information on current Texas drinking laws, crimes, and associated penalties.
Remember, if you or a loved one are facing drunk driving or drunk boating charges, contact a lawyer immediately. They will fight for your rights and work hard to get you the best possible outcome for your case.
Ben has vast experience in defending criminal cases ranging from DWIs to assault, drug possession, and many more. He has countless criminal charges dismissed and pled down. Among many other awards, one of the Top 10 Criminal Defense Attorneys in Texas and winner of Top 40 under 40.